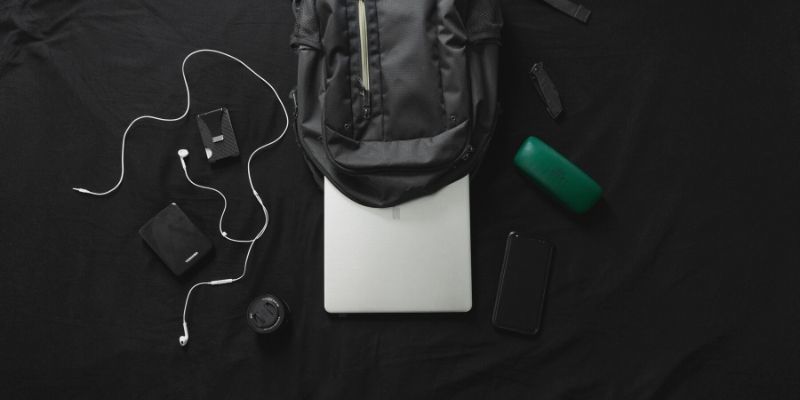 How to Protect Your Tech Gadgets- 9 Easy and Clever Ways
Tech Gadgets have become an inseparable part of our life! But have you ever wondered how to protect your tech gadgets; your smartphone, laptop, DSLR camera, or tablet you use - in any sense? Well, in this blog we've covered 9 clever and easy ways of protecting your tech gadgets!
It's funny that we think we own our gadgets, but in reality, our devices seem to control us. On a scale of 1 to 10, how would you mark the statement that says - Gadgets have become an inseparable part of our life'? Very few folks would rate it below 10, surely.
Does that mean we should worry? Of course not! If you can utilize your day-to-day-use gadgets in a proper way, these devices are more of a blessing than a headache. As these devices hold a lot of information and our privacy we must take care of these devices.
Well, there are more ways to protect a device than just using a tech backpack or a case. In this post, we are going to explore some of the very easy and effective ways to protect your tech gadgets. So, without wasting time, let's get into business!
Ways to Protect Your Tech Gadgets
So, we've come up with 9 bright ways that you can use to protect your tech gadgets. Keep reading the write-up and follow the steps accordingly.
Register Your Device
Whether you are using a smartphone or a tablet, or even a home system, the first and foremost thing to do when you own one, is to register it. Typically, you can register the product with the manufacturing company at their website pretty easily.
There are literally tons of benefits to this. First, the producers can acknowledge your ownership of the product. This can help you in many ways. This makes it easy for the company to take necessary actions regarding your product insurance.
On the other hand, you can get access to your device's operation remotely. If, by any chance, someone steals your gadget, you can immediately kill it just by logging into your account.
Strong Security in Login Info
This should not be taken lightly. Most of the gadget users take Log-in information very lightly and suffer at some point in their lives. Take the Password, for example. How many people around you set their phone Password as 12345? You can't stop counting!
The security of Log-in info needs to be pretty tough to crack. Use mixed characters in the secret code to strengthen it. This should apply equally to the registration Log-in info, as well. Ideally, you should never set an easy password to any of your Log-in info for any of your devices or services.
Check for Insurance
Most gadget-users don't even know if their device can be insured or not. For smartphones, PC, or even tablets, the manufacturers do reserve some provision for insurance. It's not a matter of climbing a mountain to find it out.
Tech giants like Apple and Samsung have impressive insurance policies that can protect the smart gadget you purchase from them. If these are not your brands, you can still look for the same service from the producers of your device.
Otherwise, you can try your luck in some third-party insurance companies that provide insurance service for gadgets and devices. This makes sure that if you somehow lose your device or gets stolen, you can ditch the heavy financial load of replacing it.
Regulate Voice-Activated Devices
Recently, many of us have got familiar with Voice-Activated Devices. Apart from our phones that work in a similar way, we are placing a dedicated VAD in the corner of our living room now. But how many of us are aware that these VAD can actually record what it listens and can expose the recordings to potential data-thieves?
Well, now it sounds scary, right? However, you can bypass this, too. Every VAD has an option to delete its recorded clips. Simply activate that option and stay safe.
Security Apps
If you are a regular user of a smartphone or tablet, you must download a security app on your device. It will protect your gadget's internal system protected from malware and potentially harmful virus.
Plus, some of these apps come with some additional useful features like clearing temp files, removing junk items and data, and eventually accelerating the speed of your gadget. Make sure you have one on your device.
Back-Up Your Data
If you are using cloud storage on your gadget, it's great, skip this part. But if you are not, then you need to keep the regular back-up of your data. Try syncing the device-storage data with your cloud storage, or transfer the data to your PC once in a while.
It will make sure, even if you lose your device, your data is not lost.
Stop Using Wi-Fi In Public Network
How many times have we all made this mistake, huh? It's hard to resist to use the 'Free' Wi-Fi found in a random cafe, or even open spaces, right? But it can be pretty harmful to your privacy. Hackers can get easy access to your gadget by tracing your Log-in information if you are using a publicly open Wi-Fi network.
So, be careful to use public and 'Free' Wi-Fi from now on!
Use Durable Cases
This is for those of you who regularly carry their phones or tablets with them. It is very much possible that the slim and lightweight gadget can be slipped out of your hand drop dead on the floor - all cracked and destroyed.
To avoid such a disaster, you need to get it a super-strong, durable case. The case will absorb the shock and blow the device was to endure. Thus, it will protect its external look, plus the internal hardware from misplacement. This tech backpack buying guide might help you to choose the right backpack for your tech gadgets.
Men's backpacks and women's backpacks are built differently. Women's backpacks tend to have a shorter back length for extended comfort; so when you choose one choose wisely.
Clean Your Gadgets Regularly
Lastly, you need to clean your gadgets whenever you get a chance. This is something that most of us probably never haven't even thought about. But this should be done on a regular basis.
Over time, using the gadgets inside and outside of your home for almost 20 hours a day can seriously make it dirty. So, you need to use cleaning solutions that are specially formulated for electronic devices.
You can even use alcohol pads or 70% isopropyl alcohol rub to clean the device in case you don't want the gadget to be affected by any physical virus or bacteria.
Final Words
So, these were some of the most vital, yet easy ways you can follow to keep your tech gadget secured and protected. If you have been looking for answers to how to protect your tech gadgets, we hope this article suffices.
Have you applied some of these techniques before? If yes, then share your thoughts with us! Also, write down what more can be done to raise the security level of our devices a bit higher. We are eager to listen!