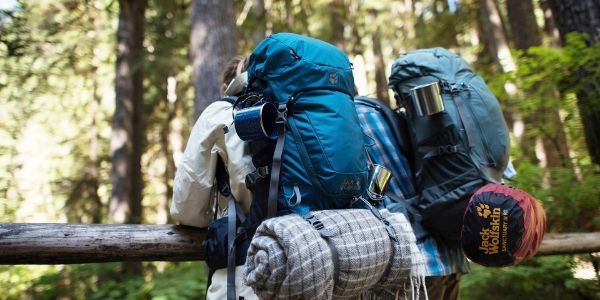 How to Pack a Backpack for Backpacking Trip | 5 Rules to Follow
You have been planning for a backpacking trip and gathered all of your backpacking essentials. Now it's time to pack it inside your backpack. In this article, we'll cover how to pack a backpack in an easy organized way. There are only five rules which you have to follow.
1. Pack Your Sleeping System On The Bottom
If you plan to spend night in the backcountry, you should pack a sleeping system and put it on the bottom of your bag, either in the sleeping bag compartment or down to the main room. Stash your sleeping pad outside of the bag with the compression straps.
You should pack three items on the bottom of your backpack when hiking. Your sleeping system, which includes air mattress, pad, and backpacking pillow, should be at the bottom, so it doesn't get punctured by other gear.
2. Pack Sturdy and Heavy Items On The Middle
Store your sturdy and heavier items in the middle of the backpack near your spine. It is the center point of your bag and ensures stability and proper weight distribution. Heavier items like a bear canister, cook kit, water filter, stove, and pot are the best option to pack on this section. Put them close enough together that it balances out the weight.

Here is a good tip for you, put your extra cloth into the gaps in the middle of your bag to create a dense system that will strengthen your backpack.
3. Put Your Tent On The Top of The Main Compartment
Put your tent towards the top of your main compartment. If the weather changes, you can easily access it and set it up.
On top, place clothes for nighttime wear and any lightweight items, you may need during the day. It will provide stability for your pack, so it will stand upright while being transported.
4. Store First Aid Kit on The Top Lid
Put emergency gear like a headlamp, key-ring, and first aid kit inside the top lid compartment. Having a first aid kit on your backpack is an excellent way to stay prepared for whatever might come your way. Putting a first aid kit on the top lid allows easy reach so you can grab it as soon as an emergency arises.
5. Pack Handy gear in the hip belt pocket
Fill your hip belt pockets with handy items like headphones, knife, flashlight, whistle, and camera.
Hip belt pockets are a great way to keep your gear close at hand while hiking. These pockets are located on the hip belt, with one on each side, and can easily be accessed while wearing your backpack.

They are incredibly convenient when climbing since they're easy to reach without taking off your pack. Hip belt pockets will also prevent you from digging through your bag for small or essential items when you need them most. That's why hip belt pockets are one of the most overlooked features on backpacking backpacks.
This image visualizes how to pack your backpack in an easy organized way!
Now that you know how to pack a backpack; get ready and enjoy the outdoors. If you are looking for the best survival backpack read our Survival Backpack Buying Guide.