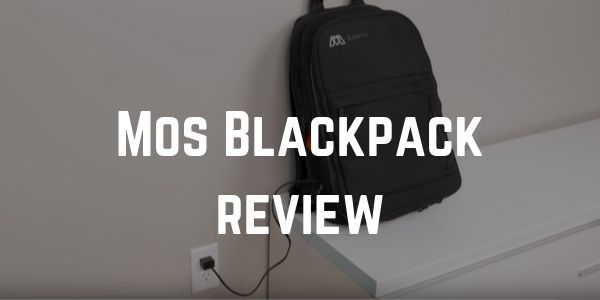 MOS BLACKPACK Review – Best Gadget Backpack
If you are tech savvy then you always desired to have the best backpack for tech and electronic gadgets. MOS BLACKPACK is all in all best gadget backpack that can charge your electronic devices simultaneously. I just fall in love with its incredible design and features.
- Mos pack is all in one a charging solution for your tech gadgets
- Considering everything; this is the future of high tech backpack.
Performance:
MOS BLACKPACK is build with high-quality materials. This bag is built by ballistic 1680 D Nylon that gives it military grade strength and durability.This type of nylon is the strongest material; This single strand nylon can hold up to 15 pounds of weight.
The fabric can resist light rain. Furthermore, Interior is made of water-resistant Rip-stop nylon which means another layer of protection for your essentials. This packbag is assembled with self-lubricating YKK VISLON zippers which is super smooth.
Its padded laptop compartment easily fits almost a 15.6-inch laptop. And the tablet chamber fits a 12-inch MacBook or any other tablet.
MOS BLACKPACK is the best gadget backpack; Perfect for backpackers who want to travel with their electronic gadgets.
The extension zipper allows MOS BLACKPACK to expand from 19L to 27L. While you are carrying small gear for everyday use you can keep it slim. And whenever you need to carry more for a longer trip you have option to expand it.
As a tech-savvy you must want to carry your electronic gadget with you, whether you fly around the globe, backpacking for a country trip or just skating across the town.
MOS BLACKPACK is all about keeping your appliances charged. There is a power cord in the bottom of the pack; from there all of your devices will connect with it.
You can access to the cable from the zipper pocket outside the pack.
Simply open the zipper pocket pull out the cable; plug it up and power up all of your instrument.
No matter whether you are on the plane or a train you can charge your gear without pulling out all of them.
This pack is specially designed for the traveler who travels with their tech essentials.It has the best solution to make your backpacking trip easier.
Organization:
The build in cable management and bungee pockets hold chargers, power banks and makes the inside of the pack clean and easy organized. This remains clean and organized even when you charge your device.
Moreover, Cable Snaps and Channels keep the charging cable and USB port organized. Cable snap are easy to use, you can just coil the cables and attach them with cable snaps. No hassle with cables.
A number of dedicate pockets available for your passport, phone, and boarding pass . The pack has several cable pass through in the pack so that you can run the cables through different packs.
The microfiber lines hard-shelled top pocket protects your valuables; I love it, This pocket is just perfect for my sunglasses.
It has an internal water bottle pocket which can store a 32 oz water bottle. This pocket is covered with waterproof lining to keep all of your electronics safe.
Moreover, the pocket has an External Water Bottle Flyout so that you can store your water bottle outside the pack and make full use of the packbag for a longer trip.
The Mos Backpack comes with build in Rain fly so that you can protect your electronics from getting wet. The rain fly remains hidden inside a zipper pocket in the lower part of the pack and serves as an extra layer of padding.
Custom and Fit:
In the back, there is custom molded EVA back panels for easy airflow. This helps to increase airflow on the back and provides extra comfort and breathability.
On the back panel, they have also added a luggage pass through to easily fit the backpack with your luggage handle for convenient travel.

Adjustable shoulder straps are easy to use; can be fitted with any shoulder. Chest strap helps to stabilize the load by dispersing the weight of the bag. And this gadget bag has a Bar Tack reinforced handle in the top. This heavy duty drag handle is a convenient way to carry the bag with hand.

External cable pass-through and cable storage allow to plug in and charge all of your electronics simultaneously.
Furthermore, the gadget backpack has a reflective silk screen which keeps you safe at night.
Video: MOS Blackpack - The Best Travel Backpack for your Electronics
FAQs
Question: How do I adjust my backpack?
Answer: You can adjust your backpack simply just tightening the shoulder straps. There is a removable sternum strap which is also called chest straps right there in the shoulder straps. You can also adjust it with your chest. This helps to disperse the weight.
Question: Does this backpack has anti-theft cables, lock or feature?
Answer: This backpack is made of high-quality Rip-Stop materials which is also cut proof.
Otherwise No anti-theft cable, lock or feature.
Question: Does this pack include a Reach C or Reach + power adapter?
Answer: This pack does not come with a Reach C or Reach + power adapter.
Question: What is the Dimension of this bag?
Answer: MOS BLACKPACK is 31 cm by 46 cm by 18 cm when full, but unexpanded. When expanded the MOS BLACKPACK is 31 cm by 46 cm by 23 cm.
As a whole MOS BLACKPACK is the best backpack for tech and electronic gadgets. It serves what is promises. Moreover, this is a custom backpack, Mos Organizer has a bunch of tech accessories. You can buy them and add more features and essentials with it.